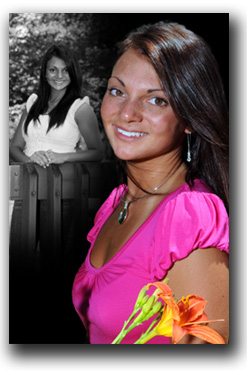 Tell me how this whole thing works? Simply put: you set up an appointment; discuss the locations and any ideas you have with us; show up on the specified date ready to go; within 2 weeks of the shoot, your proofs will be uploaded to our photo gallery for your review; you order; we ship!



How do I contact you? Give us a call at 440-915-8175. Or you can mail or email your request with a contact number so we can get back to you. Email us at sidelineshotz@yahoo.com, or drop us a line at P.O. Box 29005, Parma, OH 44129.



How much will my portraits cost? Do you charge extra for the portrait session? We offer four solutions: our main portrait package, which costs $250; a CD of the enhanced images for $105; a mega-pack of 50 4x6 prints of your favorite shots for $55; and ala carte print and gift items at our regular gallery prices. There are NO extra costs! No session fees; no cost for multiple locations, outfit changes, or even photo enhancements!



What about sales tax? And shipping? Our printing lab is in Texas, therefore, you pay no Ohio sales taxes. However, if you purchase a CD of the original digital files, we ship it from Ohio which in turn requires us to charge local taxes. The only items incurring extra shipping costs are the ala carte items in our gallery.



When do you expect payment? At the first session location of your choice, we expect the package payment of $250 (cash, check, or money orders accepted). If you later decide to purchase the CD or 4x6 mega-pack, you can mail us your payment. Ala Carte gift item purchases on our gallery require a credit card at the time of purchase.



You offer only ONE senior package? Yes. But within that one package, you can choose from many different layouts. You are given a total of 10 units; an 8x10 is 1 unit; 3 separate 5x7s in another unit, an 11x14 print is 2 units, etc. You customize your order based on your needs. For more info on units, refer to the top of our senior portraits page.



Can I purchase the digital files of my session? Yes! We can send you a CD of the enhanced images (copyright released) for $105 (plus tax).



How long will my portrait session take? That all depends on you and your locations. We'll travel to up to four different locations of your choice. We like to keep our sessions between one and three hours.



Do you have a studio? No. All our photo sessions are shot outdoors. We can go to your high school, your home, a favorite park, the beach, you name it.


What if it rains on our appointed date? We can certainly reschedule. However, you may still want to meet and get a few shots dancing in the rain.



How many photos do you take? Approximately 100+. That leaves plenty of room for creativity. We'll narrow that down to 30+ of your best shots plus collages/ enhancements.



Are collages and enhancements included in the package? Yes! We will create multi-photo collages; some we'll turn into black & white prints. We'll also enhance them by removing blemishes, improving exposure and color correctness. All extra images will be uploaded to our online gallery along with the enhanced session photos.



I have picked all ten units, but still need more photos! What are my options? You can order the 50 4x6 mega-pack and save a couple units for other sizes; you can order separate prints from our online gallery; of course, you can always pick up the CD and order your own prints from your favorite one-hour photo.



I have a few ideas for my portraits. Can I be creative? Absolutely! Bring your favorite instrument, your motorcycle, your shoulder pads! These are YOUR portraits and YOUR memories. Bring whatever you feel will portray your style and personality. As long as no people or animals are hurt in the process…



Can I bring friends along? Of course! You can even include them in your photos if you like.



How long after the photo session can I expect to see the proofs? We will have all of your images uploaded to our online gallery within two weeks of the shoot. You then fill out the order form and send it back to us via mail, or email.



How long after that will I receive my order? You can expect a shipment within approximately one week from the time we receive your order form. If you ordered a CD, that will ship separately from your print/gift order.



What if I don't like my proofs? We want you to be completely satisfied with your portraits! Therefore, we will meet with you again for a separate shoot at no charge.



I like the poses, but have different ideas for collages. What can I do? Give us a call! We will work with you on collage ideas at no cost. We can combine images; re-color them; make them black and white, or sepia… the sky is the limit!